Towards a more responsible perfumery

To build a better world, we are committed to bringing luxury and sustainable development together.

Aware of the issues, we strive to design products that respect our planet.

Thus, we prefer reusable packaging, such as our luxury lacquered wooden box that we like to keep as a precious object or our cashmere pouch that proves to be the perfect ally of our travels by slipping in our perfume, smartphone or our sunglasses. A pouch that can also be perfumed to embalm our bag everyday or slip into a drawer, like a «doudou» perfumed.

Responsible materials

Whenever possible, we strive to design the product in the most virtuous way.

The interior foams of our products are all recyclable. More specifically, the 50ml is a bio-based foam made of 80% cane sugar, recycled and recyclable, the first 100% renewable. A moss of plant origin, its cultivation directly absorbs CO2 from the atmosphere and its "zero-emission" production process gives it a negative carbon footprint.

The zamac hood, mostly made of zinc, is the ecological alternative to luxury packaging. Zinc is a natural resource, available in large quantities on the planet, biodegradable and infinitely recyclable.

All our cases are made from FSC certified cardboard, sourced sustainably and recyclable, made from forest fibres and contributing to responsible forest management. They are recyclable, compostable and biodegradable.

Our glass bottles come from the Bresle Valley in Normandy, which allows us to reduce our carbon footprint and develop a circular economy.
From packaging to clear sorting instructions

We have made the choice to inform you about all the sorting instructions and display all the pictos necessary for the proper use of the product in its life cycle.
The Triman logo helps you to do the proper sorting for all the packaging, either to the GLASS CONTAINER or to the RECYCLABLE BIN. Respect them for the good of our planet.
In the case of packages that are too small (for example a sample bottle), you can always find the sorting instructions available in a paperless way on our website www.affinessence.com.
Glass bottles even small bottles as samples, even with their pump shrimped, and together with their cap must go to the GLASS CONTAINER; Outerboxes, boxes, foam, wood coffret, pouches and paper leaflets must go to the RECYCLABLE BIN.
The acronym of the 2 letters indicates the country (at least) in which these instructions are valid: for example FR for France. Other countries may be added gradually.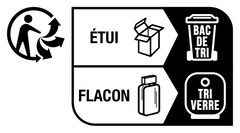 What is Moebius ring?

The moebius ring includes an alpha-numeric coding that indicates the type of material used for packaging elements. It helps to recognise and sort them without risk of error.